Why The DIY Unsigned Music Scene Is More Vital Now Than It Ever Has Been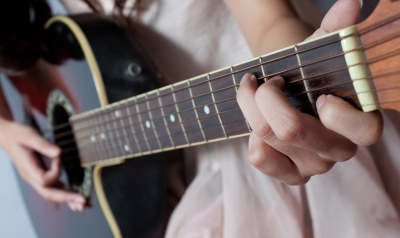 The music industry is tougher now than it ever has been.
With pop music becoming more and more diluted into something that would have been laughed off as a joke 10 years ago (I'm looking at YOU Will.i.am!) and the more alternative acts feeling marginalised as a result, it's harder than ever before for fledgling acts to find their footing on the first rung on the ladder. Record labels are closing every day due to poor sales across the board and as a result only 'sure things' are being let through the gate these days.
But that shouldn't stop you if you really love what you're doing! It's a myth (popularised by the media) that you need to be 'signed' to have a career in music. Indeed the opposite might well be true as for years major record labels have been manipulating and ripping off their clients. Although the legions of screaming fans and luxury coaches you see sitting outside your favourite bands sold-out, headline gig might seem extraordinary, it's all just a hirejob really; that band won't be making the bulk of the money as the fat cats behind the curtain will.
So why not do it yourself
So you're in a band, you've been together for a few months now and you think you're pretty good? Yet before you even begin to consider stepping out into the cruel world of unsigned music you should really make sure you're the best that you can possibly be. The Internet age has led to a surplus of bands, as the tools with which to record and distribute music are now readily available to every tom, dick and harry at very little cost. So it's more important than ever to stand out from the crowd.
The first gig
Your first gig should be a massive deal, that can't be expressed enough. If it's out of town then hire a luxury coach to ferry all of your friends and family members to the show and they'll feel like it's a real 'event'. Contact all local media outlets (no matter how small) and make sure they send someone down to cover the show; this means online blogs, local magazines and radio stations and even smaller labels (you might not want to be signed, but they will have contacts that can prove useful). Merchandise is also vital. Even though you've never played a note in public you should have a demo CD and T-Shirt stall set-up, perhaps if you charge for entry to the show you could give away a CD and Shirt with every ticket purchased. You will almost certainly end up out of pocket but you'll also have made a massive impression.
Marketing your 'product'
Even though you loath to admit it, you're band is a 'product'. Snobbery is not a luxury that you can afford in the unsigned band circuit and you can coach yourself to think otherwise but you'd be lying, you are a product, a product that wishes to hire itself out to the highest possible bidder (your audience). So once you have a professionally produced piece of music (just because it's produced from home doesn't mean it can't sound professional) you should try and make its presence felt both online and in the physical world. A good idea for a debut release would be to make it an online only, free digital purchase. There are numerous websites that will host your music for free, some of which will even include promotional tools that can prove invaluable. Also try to shoot a cheap video for your song. It won't be news to anyone that YouTube is a monumentally important platform for musicians in the 21st Century and if your video is smart enough, who knows, it might even go 'viral'.
At the end of the day, if you're not 100% into your music then all of this advice will be lost on you. It's a different world now than it was even 10 years ago and if you're looking to establish a lasting career in the music industry you're going to have to be prepared to spend months, years, maybe decades working 'real' jobs to subsidise your passion.
If your heart is in it completely though and you have a thick enough skin, whether you end up making any money or not, you'll have one hell of a ride!
Ian Appleton is a writer who has a real interest in the rock music scene. He often dreams of being in his own band and using a Luxury Coach Hire Company to take him from gig to gig.
Image courtesy of artemisphoto / freedigitalphotos.net