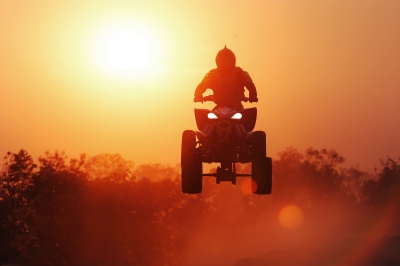 Being a stunt man is a fearless job. Whether it's done by professional who do it every day, or brave actors who decide to take on the roll, like Tom Cruise does with many of his driving stunts, it's important the job is done by a professional to ensure they are done as safely as possible.
However, no matter how much training stunt men receive and no matter how safely the stunts are set up, sometimes things do go wrong. We take a look at some of the most disastrous stunts in recent history.
Golf kart crash
The fearless crew of daredevils and pranksters on MTVâ??s Jackass are used to their fair share of bumps and bruises but a misjudged stunt in a golf kart left Johnny Knoxville and cohort Ryan Dunn suffering with a heavy dose of concussion.
Knoxvilleâ??s skull was almost crushed when the kart flipped at high speed but nevertheless the accident was still included in the gangâ??s second movie. Tragically, Dunn died in a car crash in 2011.
 
Paralysed on set
An extra on the set of Transformers 3 was left permanently brain damaged, paralysed on her left side and unable to talk when she was struck in the skull by a metal cable that had flown from a stunt car.
24-year-old Gabriela Cedilloâ??s family sued Paramount Pictures for negligence following the accident in 2010 and settled for £12m in damages from the studio two years later.
 
Wrestling tragedy
Owen Hart, the brother of 90â??s WWE wrestling hero Bret â??The Hitmanâ? Hart, died during a live televised event in 1999 when an elaborate entrance went fatally awry.
In character as the Blue Blazer, Hart was being lowered into the ring when the cable he was attached to snapped and caused him to fall to the ring from upwards of 70 feet.
 
Top Gear dragster wreck
The British nation held its breath in 2006 when affable Top Gear presenter Richard Hammond fought for his life following a 288 mph car crash.
Hammond was filming for a segment on the show when the front right tyre of the jet-powered dragster he was driving burst, flipping the vehicle and launching him face first to the ground. Miraculously he survived with only minor brain damage.
 
Movie death
Brandon Lee, son of legendary martial arts icon Bruce, was killed on the set of 1994 movie The Crow when he was shot in the stomach by a prop gun that had been accidentally loaded with a live bullet.
Some believe the film was cursed due to a series of on-set mishaps that included a carpenter suffering near fatal electrical burns and a stuntman falling through a roof.
 
Epic fails
Evil Knievel was the worldâ??s most popular stuntman but his fame owed more to his failures than successes. He finished his career with 433 broken bones and with them a place in the record books.
A botched attempt to jump the Caesarâ??s Palace fountain in Vegas left him in a coma for a month, while in 1974 he almost died when his parachute opened prematurely as he tried to hurdle a canyon.
Adam Davies writes on behalf of life insurance comparison in the UK website Confused.com.
Image courtesy of Toa55 / freedigitalphotos.net