List Of Free Educational Apps For iPad
 iOS is undoubtedly the most popular operating system these days. And just like its biggest competitor – Android, iOS offers the average consumer the great opportunity to become a part of the big, global family that is Internet.
However in recent years Internet, and especially when it comes to modern mobile devices, is all about having the right applications. Travel applications, movie apps and plenty of different entertainment apps. But perhaps the most useful type of applications are the so-called 'educational apps'. In this article we will offer you a short list of the most popular free, educational apps for iPad. Enjoy!
Best Book for Tweens: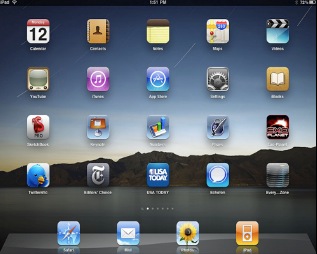 This is our first suggestion. In order to introduce it in the best way possible, we decided to give you the short developer's description: This app is a fun way for parents, teachers, librarians, and readers to get more information about top rated books at the fifth and sixth grade level. Tag a book as â??I want thisâ? or â??Iâ??ve read thisâ? to add it to your list. You can email your list out for an easy way to show which books youâ??re interested in getting and which books youâ??ve already completed.â?
Docs Anywhere
This is another great application. It gives you the opportunity to manage all of your digital data and documents. It allows you to transfer information between portable devices. It is capable of reading a huge range of file formats, such as .pdf files,Word, PowerPoint, Excel, rich text, plain text etc.
Molecules
With this fantastic application, you are now able to turn your iPad into a great source of knowledge. It is very appropriate for students, which find science a hard nut to crack. It gives you the opportunity to take a look at a three-dimensional view of molecules. You are able to control, zoom and rotate them.
World Book â?? This day in history
As you can probably suggest by its name, This day in history is an application that gives you the chance to get lost into the magic of world's history. It presents 365 days of important historical events, battles, discoveries, births and deaths. And the best part is that the the application's updates are expected to preset a large number of interesting images, videos, audios and an opportunity to get further information from reliable historical sources and texts. And all this for free! Good job, iOS!
SkyORB
This is another fascinating app. And again, in order to be absolutely correct and give you an exact information about its main functions, we are giving you the developer's description:â??SkyORB features many functions as a 3D real-time representation of the planets position around the sun, the ability to hold your device and point toward a visible star and planet and reveal the name by tracking the GPS position, compass orientation, the elevation from the gyroscope, warn the user when a phenomenon is occurs as a full moon, a planet really visible, which is worth the observation.â?
Google Earth
This is our last suggestion. Google Earth is a fantastic application, which will allow you to explore the world with a single move of you finger. You are able to travel all over the globe, search for different places, exotic countries and cities. Except for iPad, this application is available also for iPod touch and iPhone. Again â?? for free!
Author Bio: Morgan Johnes is passionate blogger keen on topics about tech and new gadgets. He currently works in the support team of http://www.hirehousecleaner.co.uk/house-cleaner-south-east-london/ and he loves his job because he learns new things everyday.