How To Blow Up A Building (safely)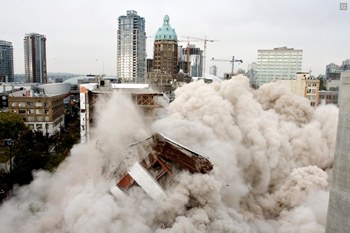 Building demolition takes a great deal of preparation in the form of meticulous planning and a number of safety measures to take into consideration. Since these structures have sturdy foundations and are difficult to bring down, the only possible effective method is to use explosives.
For buildings that are in populated areas and have a variety of other buildings surrounding it, the technique of â??implosionâ? comes into effect. This is to prevent damage to the surrounding buildings while efficiently demolishing the desired building.
<iframe width="420″ height="315″ src="http://www.youtube.com/embed/sK50So-yYRU" frameborder="0″ allowfullscreen></iframe>
Professionals take care when blowing up large buildings in a safe manner. Deux Project Limited, one of the well-known demolition companies in Lagos, takes these necessary steps when destroying a building:
Planning Stages
There are different types of buildings, from small office complexes to skyscrapers, but the basic principle of demolition remains the same. The fundamental idea is to remove the main structure that acts as the foundation, or support, for the whole building. Once this is achieved, the top part of the building will lack the necessary support and will immediately collapse.
Although a great number of carefully placed powerful explosives are required to achieve this, the execution by professionals will usually be flawless and spectacular in some instances. In essence the part that the explosives play in the demolishing process is minimal as gravity alone will be responsible for most of the destruction.
Professionals will also ensure the maximum safety for the surroundings and vacate any nearby buildings to prevent injury or harm.
Achieving a Smooth Demolition
A firm will often use a 3D model of a building in order to effectively determine its weakest points, then various teams of blasters will place and load explosives in a number of points that are vital to the building standing erect. These points will be carefully examined by looking at the building's architectural blueprints to determine the weakest areas.
After a number of inspections and tours, teams will take notes on each fundamental aspect of the construction. These teams will gather the data and subsequently decide on the best way to put their plan into effect. The biggest challenge is to cause as little damage as possible so that the whole building comes down in one single action. This also ensures minimal debris so the area is easy to clean after impact.
Jakande estate
Demolition of a number of houses in Jakande estate, which were mainly comprised of three- and two-story buildings, was deemed necessary due to failed integrity tests. The tests were undertaken by the State Raw Materials Testing Agency, responsible for the safety of buildings in many parts of Lagos, after two buildings collapsed and killed two people.
Dr Femi Oke-Osayintolu, general manager of Lagos State Emergency Management Agency explained that these demolitions were necessary in order to prevent further accidents in the area. Further inspections were also carried out in order to determine which buildings were deemed unsafe in the area. This incident shows how demolition is also important for reducing lethal accidents so areas can be rebuilt to safer construction specifications.
One of the most experienced companies in Africa at controlled demolitions is Deux Project Limited, a Nigerian construction company who has brought all the aspects of development projects in house. Their CEO is Dr. Tunji Olowolafe, who has chosen to invest in expertise and experience in the pursuit of the safest and cleanest ways to destroy a building.
Joseph's interest in healthcare and infrastructure development began in college and developed through a period of volunteering in both Africa and South America. Now a professional writer, Joseph focuses on the long term gains in economic development that comes with improved healthcare standards and the infrastructure developments needed.